Sara Safvenberg
2018-10-25T17:29:15+01:00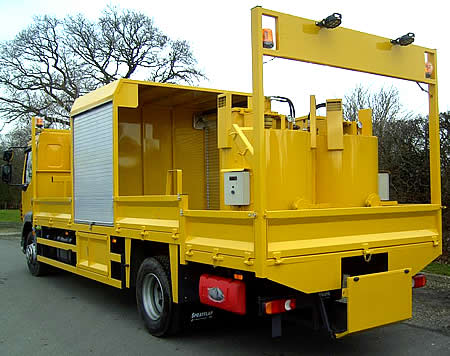 New un-registered 15 tonne gross DAF LF roadmarking vehicle
Spec to include:
All new steel bodywork, 3mm steel floor, 2.5mm pre-formed drop sides all round with heavy duty Gudgeoned hinges.
6'5″ steel canopy with 2 x Roller shutter doors.
2 x under chassis tool box with pre-formed locking doors.
Steel under run bars
Steel mudguards and spray suppression.
Steel bottle rack for 4 x 47kg gas bottles.
Piped in B.S.P. gas piping under chassis for gas and air feed to 2 x mixer tap assembly, pre-heaters and hand torch.
Fitted with Bullfinch hand torch and gas piping.
Mixer tap assembly for H.C.A.
Pram rack with hinged door/loading ramp.
Steel gantry to rear with 'Caution' board fitted with 4 x Lucas 24v. Spot/working lights and 2 x Lucas 24v. Revolving beacons.
Steel headboard with 2 x 24v. Revolving beacons.
All wired, switched and fused to cab.
2 x fire extinguisher boxes mounted under chassis.
Knowles Sandwich PTO and variable displacement pump.
Twin 60 gallon thermoplastic pre-heaters – propane fired.
Digital temperature control.
Compressor: Ingersol Rand 7/31 to be fitted before delivery.
Competitive finance available (subject to status).
Sara Safvenberg
2018-10-24T16:15:14+01:00
Chassis: New Unregistered Isuzu 7.5 tonne N75-190 easy shift, three-seater day cab. Euro 5. LEZ compliant. 3-year unlimited mileage manufacturers warranty
Spec to include:
All NEW purpose built all-steel construction roadmarking body.
NEW twin 40 gallon thermoplastic pre-heaters (propane fired).
Danfoss temperature control system.
Yanmar diesel electric start donkey engine mounted under body.
Tandem hydraulic system.
Hydraulic oil tank mounted under body.
Gas bottle rack and BSP gas piping.
Steel tool cabinet.
Mixer tap assembly for HCA and BSP gas piping.
Revolving beacons and working lights wired and switched to cab.
Pram carrying rack and loading ramp.
Rear reflective chevron markings.
Fire extinguisher boxes etc
This vehicle will go straight to work.
We can also supply and fit a new Ingersol Rand 7/31 compressor if required.
Any inspection welcome. Viewing by appointment only.
Competitive finance available subject to status.